Friday night o and I had some friends over to grill and hang out. No pics taken but a good time was had!
Saturday gg came over and we visited yet another pumpkin patch.
Then o went home with gg to spend the night so I could celebrate sheree's 30th! We had a great time at palette party here in Ruston and then at portico afterwards! I really liked my painting until I added the O. It's off centered but it's for the playroom so who cares!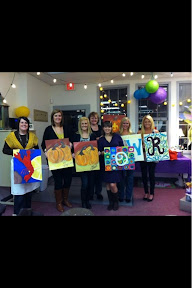 This was suppose to be a Christmas gift but gg and pops aren't very good at hiding things. Oops!!
Sunday was the KD pumpkin party at the lodge and o was all over that!
She now knows what glitter is oh boy!!
Another busy but fun weekend!!
- Posted using BlogPress from my iPhone