We had a very uneventful week. But a few reasons to dress up which is always fun!
Today before church. O loves those pumpkins!
Saturday we went to Monroe for some retail therapy with Jackie. She finally went to sleep on the way home so we sat in the car and listened to the tech game until she woke up!
Wed was pic day at school. This was o's first official school picture. And I wish I could post the proof! It's so funny!!!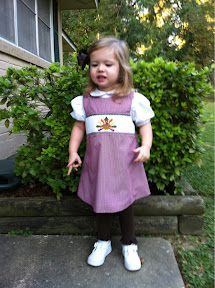 Tues she had pumpkin patch pics with Crystal Garcia and we are on pins and needles wtg to get them back!!
- Posted using BlogPress from my iPhone